How to Plan Your Travels – A guide to planning an upcoming trip (the Brady London way)
Some of the people at work were asking how I plan our family trips, especially internationally. Do you book tours? Do you join excursions? Do you book through a travel agency? How do you get around? Below is a quick guide to how I like to plan my trips. Everyone is different and these tips may not suit your style of travel.
Tip 1: Picking a destination –
This can be tricky, especially when it's a family trip and multiple people have to be considered. Whether you are going solo or traveling with a tribe, picking a destination with plenty of activities or adventures for everyone is important. For Carlie and I, we like to pick places with opportunities to explore the landscape as well as the culture. Historical sites, protected landscapes, places to interact with the local community. We tend to stay away from more "touristy" sites but that doesn't mean we won't brave the crowds if we really want to see a site.
Our method is pretty simple. We both make a list of places we would like to go and compare lists. We pick 2-3 places off our lists and start looking for flights. If we are leaning towards a specific place (like our honeymoon to New Zealand), we will hold out for better prices if we can. Usually, we can find a good deal on flights to one of those locations and go ahead and buy them. Most recently, we had England, Ireland, Scotland, and France on places we would like to go and we found a really good deal to fly to Ireland so we bought them and started to plan for our Ireland trip ($582 each, round trip from Dallas).
Tip 2: Know what you like to do –
Some people are thrill seekers, some people are history buffs, and some people are food junkies. Everyone enjoys their travels and vacations a little differently, but this tip is pretty simple. Knowing what you enjoy doing helps you tailor your vacation to fit you and your family allowing you to get the most enjoyment per dollar spent.
For Carlie and I, we like our adventures into the wilderness and nature, cultural sites and events, natural wonders, pop culture, and historical locations. When we started planning our trip to New Zealand, part of the draw for us was the natural beauty and the connection to the Lord of the Rings movies so we planned around those experiences. Getting out in nature, visiting some filming locations, and checking out some of the towns to experience the culture.
Tip 3: Picking a few must do/see events –
We like to pick out a few sites and events that we really want to experience and plan our trip around those. For our upcoming Ireland trip, we knew we wanted to go to Blarney Castle, the Cliffs of Moher, spend a few days in Dublin, and stay in a castle on our one year anniversary. This helped me get an idea of where we wanted to be in the country and whether or not we would need our own transportation. This leads me to my next step of planning (and my favorite step of planning).
Tip 4: Map It Out (seriously, Google Maps is AWESOME!) –
Now some of you just recoiled in shock and fear. Mapping it out? But I have GPS? My tour guide will help me find it. These are all well and good, and we really enjoy getting advice from locals about where to go and what to do but I will cover that in the next bit. I like to use Google Maps and pin specific destinations to give me a visual idea of where we want to be in the country. Given a specific deadline (usually based on flights), I can begin piecing together our trip. Here is an example of places in New Zealand we went and a map.
Places we wanted to go:
Hobbiton Movie Tour (Pop culture site)
Rotorua (geothermal pools and redwoods)
Waitomo Glow Worm Caves (unique natural site)
Aukland for flying in and out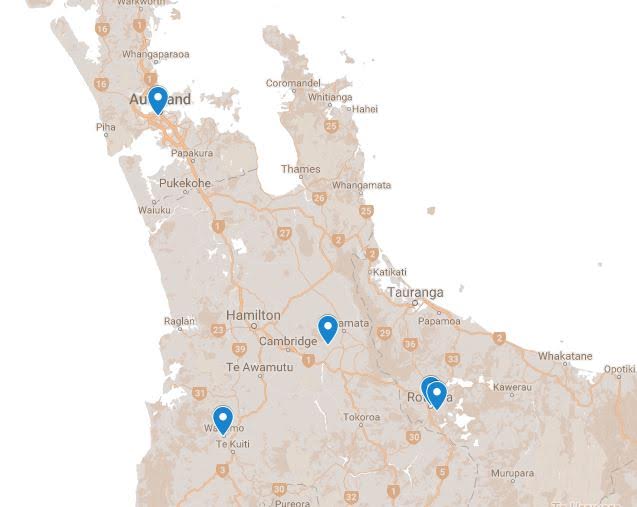 Now that I can see where we are going, I start to plan our route. We looked at the Hobbiton Movie tour and noted that we had to be there at a certain time and so we planned our trip around that. It let us make a nice loop through the North Island. Starting with Aukland, we would go to Hobbiton, then Rotorua, Waitomo, and back to Aukland.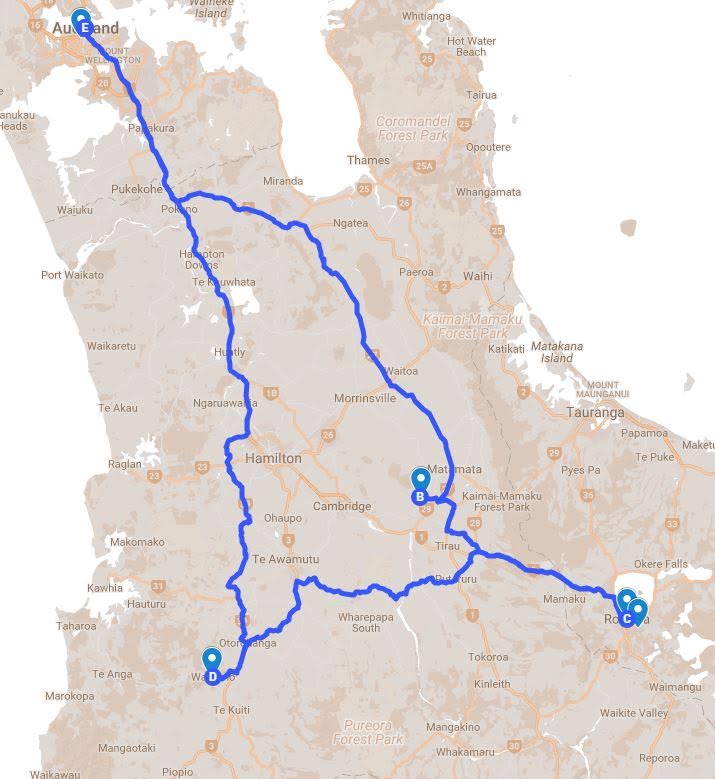 After mapping it, I realized we were going to backtrack a bit from Rotorua to Waitomo so I decided we would take a different road to get there and see more of the country.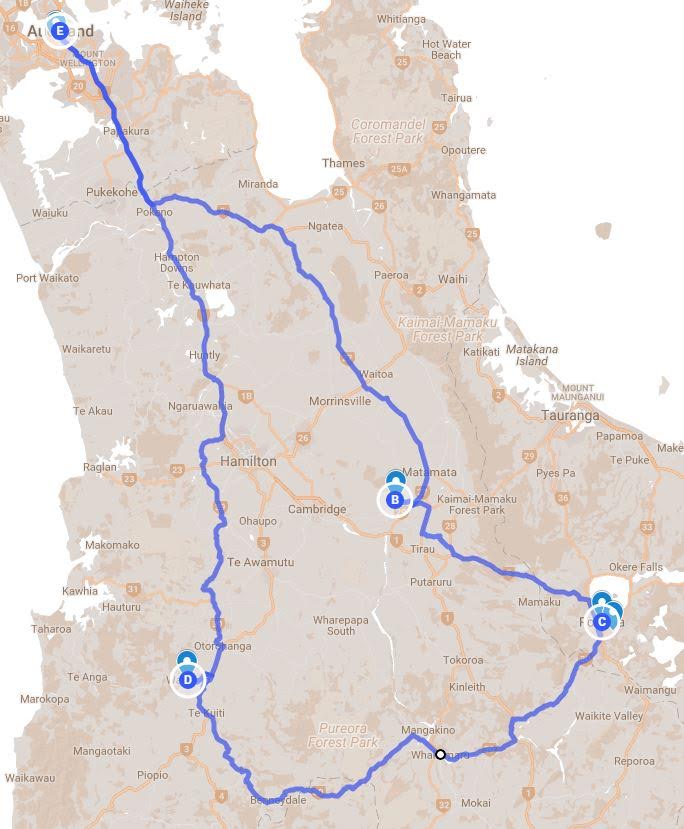 After it is all mapped out and looks like a good route, then it is time for scheduling.
Tip 5: Scheduling/Leave time to do stuff you didn't plan –
Schedule your trip by day but make sure you leave time to linger if you want. Don't schedule your trip so thoroughly that you don't have time for the unknown and unplanned. We pick specific destinations/events and look for accommodations nearby but leave time for us to enjoy the places we stay. We found an Airbnb for a couple days in Matamata when we were near Hobbiton, two places on Airbnb in Rotorua so we could try out two different homes, and a bed and breakfast near Waitomo. Carlie and I like to stay in places for enough time to explore and experience things we didn't plan on.
For example, we left plenty of time in Rotorua because it was a city with a lot to do and plenty to explore.
We knew we would be seeing geothermal pools and redwood trees (which we did) but we also got to
soak in hot springs at the Polynesian Spa, get tattoos at Globus Tattoo, and walk through the trees in the redwood forest, none of which we knew we were going to do when planning.
So leave time in unique places to explore, get advice from locals, and try something new that you didn't plan for.
Tip 6: My Unique Planning Step –
I like to do something a little unique when planning. I use Google Maps with the Imagery tab turned on. Here is how to turn it on.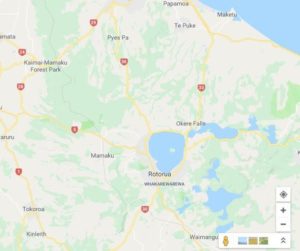 It should look like this.

With the imagery tab turned on, I follow our driving root looking for cool/interesting photographs of places that we may want to visit if time allows. This led to me finding Marokopa Falls near Waitomo.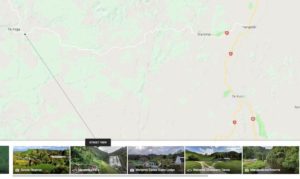 I personally like to do this step to find places that are usually not as well know but still interesting enough to show up on the tab. Try this out on your next road trip or even around your house/daily drive. You might have something cool nearby to explore that you never knew existed.
Tip 7: Google Search –
Many people write travel blogs and companies are always advertising their attractions. Doing a quick google search of "Things to do near [location], or best places to eat in [city]" can lead to some adventures. It is an easy step and will help give you some ideas.
Tip 8: Last but not least, Local Experience –
Remember how I said to leave room in your schedule for unknown experiences, well that is what locals can provide. Talk to your host, the barista at the café, or the clerk at the store about their favorite experiences in the city or nearby. They can give you tips on hikes, places to eat, where to get the best ice cream, and scenic views. This is by far the best way to get caught up in an unplanned adventure. We had no idea about the Polynesian Spa in Rotorua, but our host recommended it to us and we found ourselves soaking in geothermal hot springs with cold fall rain falling on our faces.
That just about wraps up my planning tips. We would love to hear back about how you plan and whether or not these tips were helpful. Carlie and I plan trips differently and it is usually a combination of our two styles put together for our trips (she will probably be making a post about how she plans before too long). We are always looking for new ideas and ways to travel so leave a comment below and enjoy your trips. Cheers!
Happy Go Londons