Let's make this short and sweet!
You have one week of vacation and you want to find a way to get the most out of it? Yea, you aren't alone! Vacation time is difficult for us, too and we can't take more than a week at a time (our honeymoon was an exception). Because of this, we do what we can to fit it all in, in a short amount of time. We look forward to the day when we can go vagabonding, but until then we squeeze what we can into what we are given. Here is a whirlwind trip guide around the Republic of Ireland, hope it helps!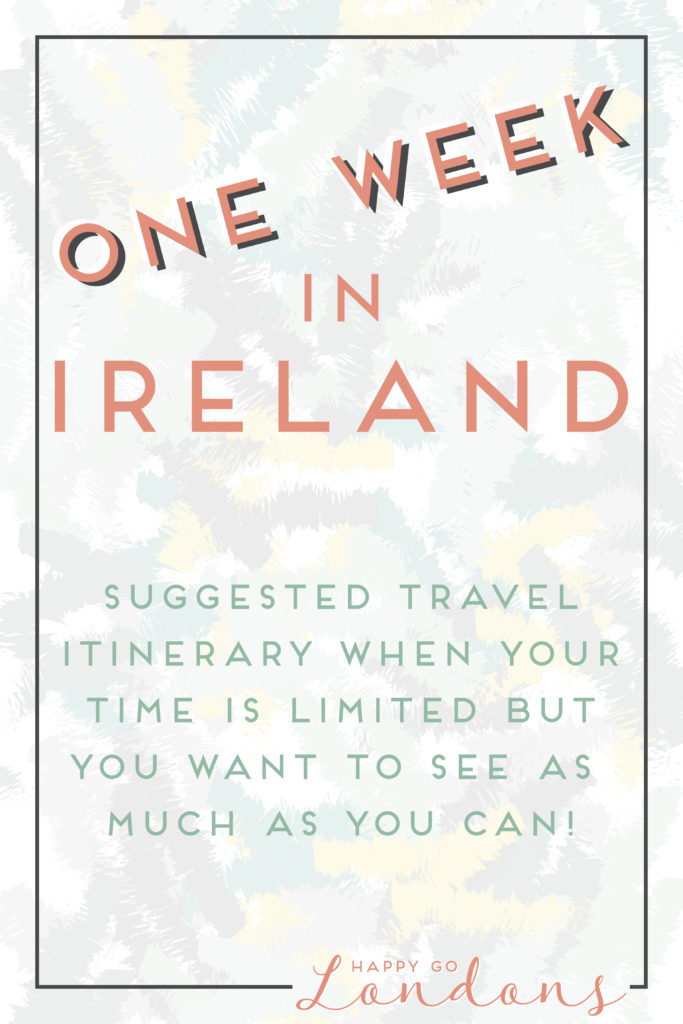 9 Days (this includes two days of flying)
Day 1 – flying
Fly on a Friday evening (leaving work a couple hours early) if you can, so you can get the most from your trip (and have an extra day)! If that isn't feasible then fly on Saturday (this is what we did).
Day 2
Land in Dublin and get super excited about the end of your trip when you will be back in Dublin but today you pick up your rental car (don't forget Ireland requires you to have their insurance and it is going to cost an astronomical amount), and head south, out of Dublin.
From there we headed for Powerscourt Waterfall. This is something we would suggest skipping unless you plan to spend time having a picnic, letting your kids play, or making use of the walking trails. It was €6 per adult, which we felt was a bit expensive to just see a waterfall.
Instead, we would say spend a bit more time in Wicklow Mountains National Park hiking around Lough Tay and Glendalough. The views over Lough Tay were insane, so insane! There are several things in the Glendalough area that are free or cost and may be better worth your time.
Treat yourself and stay at Wilton Castle. Do it. The nearest town is Enniscorthy (eat at Via Veneto – it was probably my favourite meal of the trip). There will be a post about Wilton Castle coming soon (I'll link to it once it is written).
Day 3
Opt for breakfast at the castle so you can enjoy it a little longer and not stress about finding breakfast elsewhere. The views of the castle ground, as you are enjoying your breakfast, are spectacular. It makes for a very serene and enjoyable meal, not to mention yummy!
Next stop, Blarney! There are several things in Cork you can do on your way to Blarney or around Blarney, here are a few.
Jameson Distillery in Midleton
Blarney Woolen Mills
Blarney Chocolate Factory
Cork Ghost Tour
St. Peter and Pauls Church
Fitzgerald Park
We got to Blarney Castle at about 4:30 pm and the last entry is at 5 pm and this was a fantastic time to go to the castle! There was no one around, no massive line to kiss the stone and lots of pictures that don't have loads of people in them!
Head back into Cork for dinner because there are more options. Here are some options.
Cafe Paradiso
Shake Dog
Woolen Mill
Franciscan Well/Pompeii Pizza
Liberty Grill
Blairs Inn
Stoneview Restaurant
Stay here! It is cozy and secluded in the countryside and the hosts are lovely!
Day 4
We suggest an early morning so you have a lot of time in Killarney National Park. We had breakfast at Mug & Bean, in Killarney but I know there are lots of options.
A MUST is Ross Castle. It is one of our trip highlights. It cost €5 per person and was a 45 minute guided tour through the castle, which has been completely restored. We won't spoil the rest.
From there start making your way to the west coast. We made a stop at Ballyheigue but you can stop anywhere along the way and it wasn't a particularly exciting stop.
Plan to stay at the Seashore Bnb (we highly recommend it) in Ballybunion! Explore the cliff walk, beaches, caves, and town. This is a good spot to fly a drone and to take lots of pictures that don't have other people in them. Also, make sure to eat at Namir's Restaurant! It was delicious and he was so friendly and has loads of stories.
Day 5
Breakfast is included at the Seashore Bnb – it was very good and in an all-glass conservatory that really made for an enjoyable morning. From there head to Tarbert, to catch the 9:30 am ferry. It is about a 10-minute ride. Leave the ferry to start the Wild Atlantic Way (WAW) coastal drive (there are road signs you can follow so you don't have to do too much research ahead of time).
You can stop wherever your heart desires along this drive! Duggerna Reef in Kilkee was a great photographable spot that we enjoyed exploring.
If you want to eat before heading to the Cliffs of Moher then Lahinch is really the last place with options. Our lunch at Danny Mac's was pretty insignificant but Lahinch has loads of options. There is a cafe at the Cliffs but it is a huge tourist attraction, so you will pay more to eat there.
On to the Cliffs of Moher we go! You will read online that you pay €6 for parking at the Cliffs and that is also your entrance to get in. BUT ACTUALLY you pay as you come in to park BUT it is €6 per person, not for your vehicle! This is something to be aware of. Bring a hair tie. I can't say whether paying to go up in O'Brien's Tower is worth it or not. Be mindful, it is very windy, sometimes dangerously so, at the cliffs, so please be careful and wear clothing that allows for free movent and shoes you can walk well in, balance in, and won't fall off your feet.
Two options from here: continue on the WAW track or take the back roads to go see Poulnabrone Dolmen. Either way, end up in Kinvara (Kinvarra). We stayed at Kinvara Guesthouse, they include breakfast, it wasn't a hostel but it definitely had a hostel feel, also we didn't have a great check-in experience. We had delicious burgers (mine veggie) at Keogh's Bar and Restaurant.
Day 6
Kinvara is a hidden not-so-hidden gem, there were lots of people staying there and exploring but isn't somewhere we had ever heard of. If you have more days or want to cut one of your days in Dublin (I don't suggest this), then stay another day here to explore. We stopped by Dunguaire Castle on our way out of town. They do offer a banquet experience. You can look into it here.
On to Tullamore! Along the way stop by Drum Monastic Site. They are incredibly friendly and will want to take your picture for visiting them from afar! I will be writing a post about this site as well (I'll link to it when it is published).
Things to do in and around Tullamore:
Tullamore Dew Distillery
Charleville Castle
Lough Boora Discovery Park
Golf courses
Clara Bog boardwalk
Old Killbeggan Distillery
explore town
Lloyd town park
We had dinner at The Brewery Tap, where we had the most delicious mozzarella sticks that I have ever tasted. We stayed Central Hotel, which wasn't bad and did have a gastropub on the ground floor and has a breakfast option.
Day 7-8
To Dublin, we go! There is so much to do and see in Dublin. Ditch the rental car and give your legs a workout! Walk everywhere and take in the sites! Here are a few ideas for things to do in Dublin – make it your own and make sure you do and see the things that are important to you.
We stayed in this Airbnb and would suggest not being in the middle of Temple Bar area but being a little bit closer isn't bad (especially when walking everywhere).
Day 9 – flying
Your trip has come to a close and it is time to fly home. Our suggestion (because you have already ditched the rental car) is to have your airport transportation figured out in advance.
Republic of Ireland Adventure
I hope you have found this quick travel guide to exploring Ireland helpful! It is a way to see as much of The Republic of Ireland as you can in a short amount of time. This isn't our preferred method of travel, but until we can really begin our vagabonding journey this is what we did to see more of a new place than just one of its cities! Let us know in the comments what your favourite places in Ireland were or which ones you hope to see someday!
Go and Be Happy,